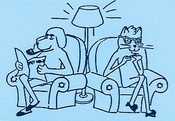 Creature Comforts provides Dog Walking

and in-home Pet Sitting Services for Cats
and all types of other animals.

Founded in 1987, Creature Comforts proudly provides quality pet care for over 1200 clients and their pets. A complete list of the towns we serve can be found in the Service Area section.

At Creature Comforts, we realize that you put a great deal of trust in an organization that will be caring for your pet(s) and have access to your home. We take this responsibility very seriously. Our fully insured and bonded employees are often complimented on their dedication, diligence and professionalism.

Click here for a guide to Selecting a Pet Care Service as well as Pet Sitter International's recommended quality standards.


If you or someone you know needs quality pet care, don't hesitate ---
Get started today!